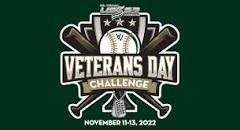 The USSSA Veterans Day Challenge Tournament Event is held in Las Vegas, Nevada from Nov. 8– 12 and Team BLE will be entering teams in the 10U, 11U, 12U & 13U Divisions.
10U Division Players must be born after May 1 of 2013
11U Division Players must be born after May 1 of 2012
12U Division Players must be born after May 1 of 2011
13U Division Players must be born after May 1 of 2010
The event will include pre-tournament workouts in Las Vegas on Wednesday and Thursday (Nov.8 th & 9th) prior to the Veterans Day Challenge tournament being held from Friday, November 10th – Sunday, November 12th (four games guaranteed). This tournament attracts teams from all over North America and is by invitation only. All players must be identified by BLE staff and receive an invitation to participate in the Event.
Coaches in the past have included:
Former Canadian Olympic team coach and Brewers Scout Marty Lehn
5-time World Series Champion, former MLB catcher and coach, Bob Didier
12-year Major League pitcher and World Series winner Albie Lopez
2-Time All-Star Shea Hillenbrand
Former MLB and Canadian National team pitcher Dustin Molleken
 Pitchit National Pitching coach and Associate Scout with the Atlanta Braves Organization Eric Ruben
Former Pro Player and Collegiate coach Jordan Blundell
Eddie Marin– Scout with Durango Generales (Mexican Professional league) and AZ Blue Jays Scout team Head Coach
International European Coach and Team BC Coach/clinician Paul Mrazek
Cost: $750.00CDN + GST- Must be Paid in Full 1 Month Prior to Tournament Start Date, deposits paid are Non-Refundable.
– Includes: Tournament fees in the Veteran's Day Challenge, and all pre-tournament mini camp and associated fees
– Team hat/shirt/Jersey and coaching/instruction.
Airfare and Hotel
*To be booked and paid for by each player*. The team hotel is "Sam's Town Hotel and Casino" 5111 Boulder Hwy, Las Vegas, NV 89122.  We have set a block of room's aside for you to book your room, just hit the following link to book your room:
hotel team login
and log in using the following:
File # 69128
Password: bejcubir

*Please note, it is not mandatory for you to stay at this hotel, but the guys do bond and hang out together at the hotel during down time which is a plus in developing team chemistry*
Coaches will arrive in Vegas on either the night of 8th and depart home in the evening of Nov. 12th.
*In the past we have practiced at the Big League Dreams field, which are replica MLB fields and we are looking to finalize that again – it's a pretty cool set up*
Tentative schedule:
Wednesday, November 8th:
4 – 8:30pm:  Team Practice/ Intersquad or Exhibition Game
Thursday, November 9th:
10:00am – 12:00 ~ Specialty session + Team Time
1:00 – 3:30  ~ On Field Practice
Friday, November 10th to Sunday, November 12th – Veteran's Day Challenge ~ Game Times TBA
Sincerely;
Marty Lehn
Big League Experience Baseball
*To pay by e-transfer please utilize this email address: mail@bigleagueexperience.com