Completing the below registration form, and submitting the payment information will secure your spot in this years camp. Completing the form will leverage charges to your credit card or paypal account in the amount of $795.00 +GST
Mizuno YOUNG GUNS ELITE Camp Pay in Full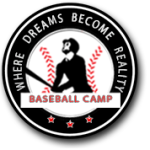 Description:
Mizuno YOUNG GUNS ELITE Summer Baseball Camp
Camp starts August 12th and ends August 18th in Oliver B.C and is designed for players born in '05 to '06. Competitively designed, players will train and play on PeeWee fields and then be introduced to the Bantam dimensions to help the eventual progression to the bigger field. Players may be advanced 1st year PeeWees or a 2nd year player heading into Bantam that would like to work on their game before Fall Ball.
Campers will work on individual skill development throughout the week as well as being divided into teams to compete in baseball specific competitions and Tournament play.
The cost ($795 + GST) of this summer baseball camp/tournament, includes camp hat/shirt/shorts, tournament jersey, tournament fees, instruction & coaching.
The camp facilities include a number of well manicured fields and batting cages. The players are housed in the Oliver Arena building adjacent to the baseball diamonds and the community swimming pool that is used by the players during the week.  Players are served nutritious and plentiful meals by a certified chef, and a snack bar is available.
Camp check in is between 2:00 and 4:00 pm on the first day of camp and the players are dismissed on last day of camp at approximately 12pm.  Please note that some teams may still be involved in tournament play as late as 2:00 pm .  Parents are encouraged to watch games during the week, and during the day enjoy the surrounding area and with what Oliver has to offer.
Completing the form below will submit your payment information ($795.00 +GST) owed for camp, and will secure your spot in the Mizuno YOUNG GUNS ELITE Camp.
Look for a confirmation email from Big League Experience following your deposit.
Click the payment completed link in that email to review your payment information..... please note the Transaction id# contained on that page, you will need it to complete your payment in full when paying your balance for the camp requested.
If you are using a promo code for a camp scholarship, please note that the code is only usable one time for the scholarship winner, any subsequent use of the promo code by others, will void that promo code for all persons that use it.
Sincerely
Marty Lehn
Big League Experience