Completing the below registration form, and submitting the payment information will secure your spot in this years camp. Completing the form will leverage charges to your credit card or paypal account in the amount of $795.00 +GST
Mizuno SHOWCASE 16+ Camp Pay in Full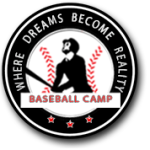 Description:
Mizuno SHOWCASE Summer Baseball Camp
Big League Experience presents the Mizuno SHOWCASE Summer Baseball Camp for those born in '02 and earlier (those players born in '02 are by invitation and must be pre-approved by the BLE office), to be held in Oliver, August 26 - 31. The Showcase camp is designed for those players committed to improving their game and taking it to the next level, ie: college or professional baseball.
*** those born in 2002 must be invited and pre-approved to play in the showcase camp.
Please fill out the player profile form and submit, and also complete this registration form below and the office will follow up with a phone call shortly thereafter.
The camp gives players the opportunity to showcase their abilities to MLB scouts and college coaches/recruiters over the full week.  The camp will include the opportunity for players to work directly with guest coaches/instructors that have played in the Big Leagues, are presently scouting for an MLB team or affiliated with college baseball.
Ran simultaneously with the PROSPECTS camp, SHOWCASE players will be role models for the younger players and will not lose any opportunities to be seen by the scouts, coaches and recruiters.
Players will be evaluated and put into teams that will work, train and compete together over the course of the week. A mini tournament will be set up for those to showcase their skills in a game setting.
The cost of this summer baseball camp/tournament will include lodging, meals, camp hat/shirt/shorts, Mizuno tournament shirt,  tournament fees and coaching/instruction is $795 + GST.
The camp facilities include a number of well manicured fields and batting cages. The players are housed in the Oliver Arena building adjacent to the baseball diamonds and the community swimming pool that is used by the players during the week.  Players are served nutritious and plentiful meals by a certified chef, and a snack bar is available.
Camp check in is between 2:00 and 4:00 pm on the first day of camp and the players are dismissed on last day of camp at approximately 12pm.  Please note that some teams may still be involved in tournament play as late as 2:00 pm .  Parents are encouraged to watch games during the week or enjoy the surrounding area and what Oliver has to offer.
Completing the form below will submit payment in full to secure your spot in the Mizuno Showcase Camp
Look for a confirmation email from Big League Experience upon payment.
Click the payment completed link in that email to review your payment information..... please note the Transaction id# contained on that page, for your future reference.
If you are using a promo code for a camp scholarship, please note that the code is only usable one time for the scholarship winner, any subsequent use of the promo code by others, will void that promo code for all persons that use it.
Sincerely
Marty Lehn
Big League Experience