Mid Summer Classic Camp July 10 - 12 Kirkstone Park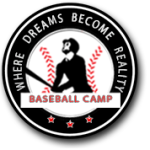 Description:
Mid – Summer Classic Camp
July 10 – 12
Kirkstone Park, N. Vancouver
The Big League Experience is excited to provide a high powered 3 Day Players clinic for keen ball players between the ages of 8-13 years. Join us for a great 3 days of baseball to help improve your game!
*Don't delay as space is limited and is on a first come first served basis*
If wishing for more information on this great opportunity, please email Marty Lehn
Completing the form below will submit payment secure your spot for the 2017 Mid – Summer Classic Camp in full
** Please note the correct age group
Player's Mid – Summer Classic Camp
8 - 10 Yr Olds   ~ 9:30 – 12:00 pm
11 - 13 Yr Olds  ~ 12:30 – 3:00pm
$125.00
INSTRUCTORS
Marty Lehn - Owner and Director of BLE, Marty has a lengthy coaching resume that includes Canadian Olympic Team coach at the 2004 games, Canadian coach of the Year, former MLB Scout for the Milwaukee Brewers and Philadelphia Phillies organizations and is a part of Baseball Canada's instructional videos Season 2, currently streaming online. A former infielder in his day, Marty will bring great energy and knowledge to the clinic.
Kyle Dhanani - A former 5-year pro (drafted by the Milwaukee Brewers in 2009), Kyle has played and observed the game at a high level, passing on as much knowledge as possible to the next generation of players. Playing as a Utility fielder during his career, Kyle has an excellent feel for the game at many positions. Kyle was a former all conference player at Thompson Rivers University and will be a great addition to the staff.
Featuring Albie Lopez - A former Team USA player that was drafted by the Cleveland Indians in 1991 out of Mesa CC in Arizona. Albie spent 12 years in the Big Leagues that had him play for 5 different clubs (Cleveland, Tampa Bay, KC, Arizona and Atlanta). His high point in his career was when he played an integral part of the 2001 World Series Championship team the Arizona Diamond Backs! With 12 years in the MLB and 558 career strikeouts, Albie Lopez is an excellent resource for players of all ages. He is outstanding on throwing mechanics and Arm Care and is currently the AZ Blue Jays Scout Team pitching coach.
Look for a confirmation  email from Big League Experience, for future reference for you.
Click the payment completed link in that email to review your payment information..... please note the Transaction id# contained on that page,for your future reference, you will also recieve a payment confirmation email, which will also contain your transaction ID#
Sincerely
Marty Lehn
Big League Experience